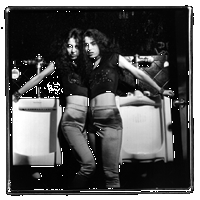 Sisters Grimm
The Sisters Grimm are best described as trashy hard-edged rock. In addition to fronting their band, the enchanting twins Marissa and Victoria are THE scenestresses of the East Village. They have taken up residence working nightly at their Candy N' Coatcheck at rock club Coney Island High, and are often spotted up front and center at hot local club shows checking out the bands. They are also responsible for the now famous Rock N' Roll Dating Game.
The Sisters are also way into Kiss, and you can tell. They live the rocker image - their shiny purple pants and ripped t-shirts are not stage wear, it's what they always wear.
Sisters Grimm live shows are high camp meets hard rock - a real treat. They don't take themselves too seriously; they're having lots of fun, and so will you when you see them.

SISTERS GRIMM:
Vocals/Guitar: Victoria Violet
Vocals/Bass: Marissa Magenta
Drums: Tyler Land
DISCOGRAPHY:
CD singles

"Chocolate" b/w "Roger" - Posh Boy Music - 1996

"I Hate My Boyfriend" - Funky Mushroom - 1995
CONTACT: Sisters Grimm Hotline (212) 802-8335 or
the coatcheck/candystand at Coney Island High