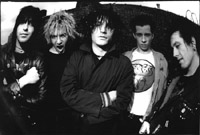 D Generation
In 1991, D Generation started off packing NYC clubs such as The Continental and CBGB's with their unique brand of melodic, punk-inspired rock n' roll. Soon thereafter the band released two 7-inch singles produced with Daniel Rey (known for his work with White Zombie & the Ramones) and Andy Shernoff (The Dictators): "No Way Out" b/w "Guitar Mafia" on Gasatanka Records and "Wasted Years" b/w "Next Big Parade" on the Sympathy for the Record Industry label.
The band released their first (self-titled) LP on Chrysalis/EMI Records in 1994. The album's first single, "No Way Out" immediately hit the New York airwaves. Unfortunately, an upper-level shakeup at EMI left D Generation with no support from the label, despite a surge of support from radio stations across the country and prominent features in Rolling Stone, Alternative Press and a PAPER Magazine cover story. D Generation immediately found five major labels eagerly knocking at their door after a two-night, sold-out stint at CBGB's.
D Generation signed to Columbia Records and quickly got back on track with their second release, "No Lunch" produced by Ric Ocasek in 1996. "Scorch", released on Flipside's R.A.F.R. compilation in 1995, is included on the record, along with "Capital Offender," "Disclaimer," and "She Stands There." D Gen opened for KISS on several dates of their 1996 U.S. tour, and embarked on a headlining tour of the states with UK girl band Fluffy supporting. They played a series of gigs nationwide with the Misfits as well.
Don't miss D Gen's version of "I Got Nothing" on the Iggy Pop tribute album, "We Will Fall", in stores now. Also, the band recently added guitarist Todd Youth to the D Generation line-up ­ check 'em out!
Visit D Generation's personal scrapbook
Read the NYTRASH exclusive D Generation Interview!

See our "Live and In Concert" photos of D Generation



Listen to a 505k .au clip of "Scorch"



Listen to a 502k .au clip of "Frankie"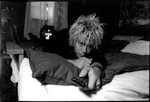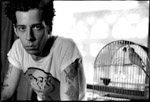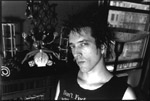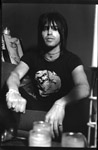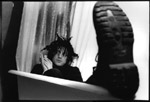 D GENERATION:
(top row)
Guitar: Danny Sage
Guitar: Todd Youth
(bottom row)
Bass: Howie Pyro
Drums: Michael Wildwood
Vocals: Jesse Malin

DISCOGRAPHY
Albums:

No Lunch - Columbia - 1996

D Generation - Chrysalis - 1994
Singles:

"She Stands There" - Columbia - 1996

"No Way Out" b/w "Guitar Mafia" - Gasatanka - 1993
CONTACT:
D Generation - P.O.Box 20523, Thompson Square Station, NY, NY 10009.
Band photos ©1997 Katrina del Mar
Copyright ©1997. New York Trash. All rights reserved.