GARY FARMER (Nobody), an actor with extensive experience on stage as well as in film, television and radio, was born in Ontario on the Six Nations Reserve. He is Cayuga of the Wolf Clan, Ongwehon:we. He is also a producer, a blues harmonica player, a journalist, lecturer at universities across the U.S. and Canada, and a community activist. Farmer attended Syracuse University as a communications major and studied photography and film production at Ryerson Polytechnical Institute.

His film work includes DARK WIND (1992), directed by Errol Morris and produced by Robert Redford and Bonnie Lee, in which Mr. Farmer had a co-starring role. He also starred in Jonathan Wacks' POWWOW HIGHWAY (1988), winner of Best Film at the American Indian Film Festival and recipient of the Filmmakers Award at the U.S. Film Festival. For this film, Farmer was named Best Actor at the American Indian Film Festival and received a nomination for Best Actor from the Independent Feature Project West.

His other films include John Schelesinger's THE BELIEVERS, Hugh Wilson's POLICE ACADEMY, and the Canadian film BLUE CITY SLAMMERS, directed by Peter Shatalow. On television he has done series work on FRIDAY THE 13TH and MIAMI VICE, been a regular on FOREVER KNIGHT, guest-starred on CHINA BEACH, and appeared in numerous television movies for both American and Canadian networks.



LANCE HENRIKSEN (Cole Wilson) has appeared in THE TERMINATOR (1984, James Cameron); ALIENS (1986, James Cameron); JOHNNY HANDSOME (1989, Walter Hill); ALIEN III (1991, David Fincher); JENNIFER EIGHT (1992, Bruce Robinson); HARD TARGET (1993, John Woo); COLOR OF NIGHT (1994, Richard Rush); and THE QUICK AND THE DEAD (1995, Sam Raimi).



MICHAEL WINCOTT (Conway Twill) will be seen next in Julian Schnabel's film BASQUIAT. his other films include THE SICILIAN (1986, Michael Cimino); TALK RADIO (1988, Oliver Stone); BORN ON THE FOURTH OF JULY (1989, Oliver Stone); ROBIN HOOD: PRINCE OF THIEVES(1990, Kevin Reynolds); THE DOORS (1991, Oliver Stone); 1492 (1992, Ridley Scott); THE THREE MUSKETEERS (1993, Steven Herrick). He has also been seen recently in Peter Medak's ROMEO IS BLEEDING, Mario Van Peeble's PANTHER, and Kathryn Bigelow's STRANGE DAYS. Wincott's extensive stage work includes TALK RADIO, THE SECRET RAPTURE, and SERIOUS MONEY at The Public Theater and ROAD at LaMama.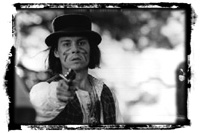 Blake (Johnny Depp) kills the marshalls.
---
All photos: Christine Parry
Copyright (C)1996 Miramax Films. All Rights Reserved.
This site brought to you through the courtesy of New York Trash magazine.
Contact: webmaster@nytrash.com